I previously posted pictures of my 1986 Model 510 on the day I received it, (7/26/2008). It is still very much a work-in-process but I've accomplished a great deal in these two weeks.
With a great deal of work I managed to get the bench tubes in fair shape.
I tried to do the same with the way tubes but there was significant pitting so I bought some replacements on e-bay.
I had the headstock checked and it was in overall good shape. The belts were replaced and there is a quill assembly on the way as the spindle was bent and would not feed or retract without a great deal of effort.
I've put all of the knobs, levers, and exposed metal work on my buffing wheel and they come out well.
I've added two 1X3" tubular aluminum leg braces which will eventually hold a shelf on top and serve as a support for two or three drawers below.
Most of the painted metal has been stripped down to bare metal. I've eliminated the rust and tried to clean-up some of the casting and machining marks.
I've repainted using non-stock colors. I selected Hammered Copper and Hammered Bronze. Some probably won't like these colors but I do. It actually looks very nice with the contrasting bright metal surfaces.
Here is the SS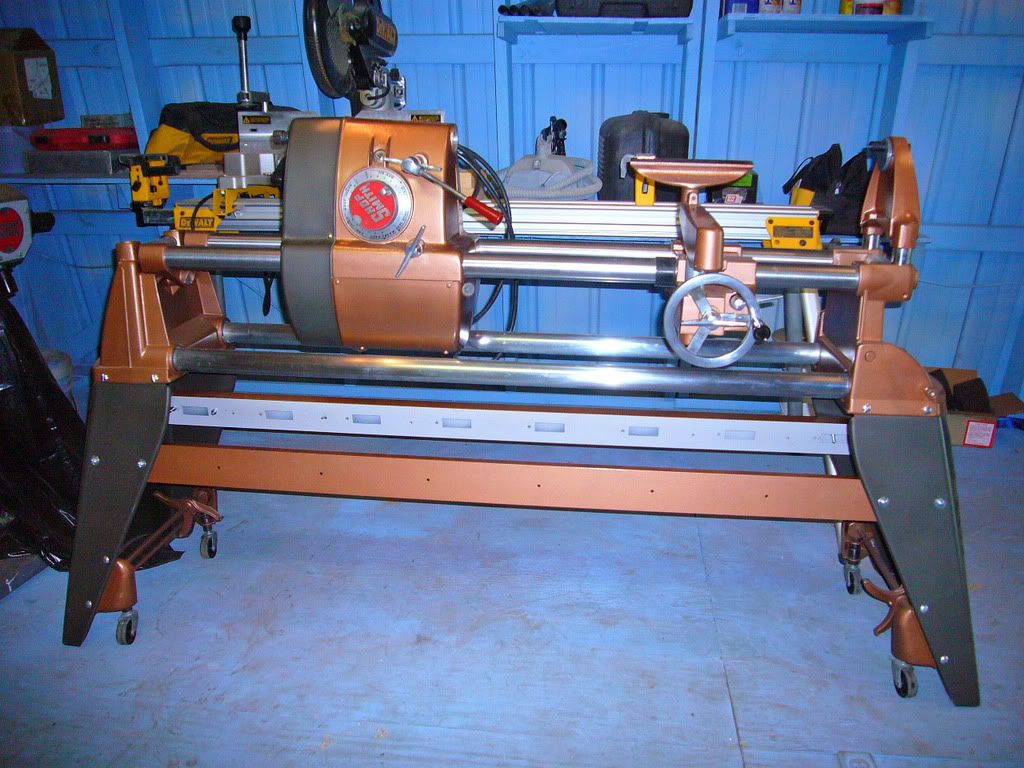 And a closer look at the headstock sans quill assembly.
The tables have some stains from oxidation which I've not been able to completely remove.
I still have several changes and improvements to be done but hopefully by this time next week I'll be able to make some serious sawdust.
It would be hard to express how much I've enjoyed this process. I'm afraid I've caught the ShopSmith disease and will almost certainly be adding another in the next several months.
If anyone lives in the Florida Panhandle and would like to swap tips and/or war stories I'd be happy to meet you.
Thanks for looking.